Thinking (and Shopping) Locally

There are a lot of businesses who are very happy to take your hard earned money.  If you're like most folks, some of them are based a long way from home.  This is a time that our economic system is getting a good shaking.   In his paradigm shifting book, "Being Digital", Nichcolas Negroponte (Chairman Emeritus of the MIT Medial Lab) talks about a concept he calls 'disintermediation'.  Negroponte suggests that technology is making the manufacture to consumer channel more efficient and is reducing the number of distributors, warehouses and other intermediaries in the channel.
Between the downturn in the economy and the rise of the big box stores, times are tough for some local business.  Now don't get me wrong; some local businesses deserve tough times.  There are, however, the local shops and service providers that we would really miss, if they were to go away; driven out of business by prices a few dollars lower at a big box store.
I like shopping at locally owned businesses.  I believe that more of the money I spend at locally owned businesses is invested back into the community.  I like knowing that the owners are people right here in town who, I hope, spend their money at other locally owned businesses.  I don't buy a lot of appliances, but when I do, I shop at a local store I've been doing business with for 30 years.  I like it that I can chat the owner up about his pigeon racing hobby.  Trying doing that at a big box store.  I like it that when the washer breaks down or the refrigerator starts making funny noises, I can call the shop and they'll send out an technician.
I like eating locally too.  My local food co-op does their best to buy local produce, meats, milk, cheese and more.  Home grown tomatoes might cost a few cents more than the mealy alternatives at the chain grocery, but they taste a whole lot better.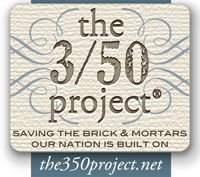 The 3/50 Project is dedicated to saving local brick and mortar businesses.  The premise is simple.  Think of three local businesses that you would hate to see go out of business.  Go in and spend some money there.  Tell the owners that you're shopping locally.  The 50 part has to do with spending $50 a month at independent, locally owned businesses.  According to the folks who are promoting the project, $68 out of every $100 spent at locally owned independent businesses is returned to the community.  $0 of money spent on the internet is returned to the community.
So what three locally owned independent businesses are important to you?
17 Comments
Leave a Response