TLH21 – Stinky Politics Alert
Standard Podcast
[ 0:01 ]
Play Now
|
Play in Popup
|
Download
(110)
Today's podcast opens with Babydoll by the Eric McFadden Trio. Eric is from San Rafel California and is a pretty amazing musician writing music and preforming in genres ranging from bluegrass to R&B. I'm including Eric on the TallyCast because he's often seen here in Tallahassee playing music with George Clinton and the P-Funk All Stars.

Eric McFadden Trio

"Babydoll" (mp3)
from "Diamonds To Coal"
(Eric McFadden)
Buy at iTunes Music Store

More On This Album
It's winter in North Florida and todays podcast is about slimy seafood and slimy politics.
Dave's Apalachacola Oyster Stew.
Shuck out a pint or two of fresh oysters and keep as much of the oyster liquor (the juice) as you can. You can use whatever you have but if you're lucky enough to live 'round here, the Indian Pass sliders are pretty good.
You'll need two sauce pans. In the first one, heat up some whole milk. Don't use skim or 2% and don't use half & half or heavy cream. Whole mile is the ticket. Use about the same amount of milk as you have oysters. It's OK if you use a bit more. Heat the milk up to hot but not boiling. Keep stirring it with a whisk to keep it from burning.
In the other pan, melt a stick of unsalted butter. I said butter and I didn't mean anything else. If you like garlic, you can throw some crushed garlic to taste and let it cook in the butter a bit. Now add the oysters and heat them in the melted butter until they just get warm and a bit plump. It's better to be undercooked than overcooked. Think of all that energy you put into shucking them and don't screw up!
When the oysters are plump and warm, add the warm milk. Stir gently, add salt and fresh ground black pepper to taste and serve. It's simple but elegant.
Politics
Living in Florida, I'm pretty used to sorry politicians saying anything they can to get elected whether or not it's true. On the last episode of the excellent Hometown Tales Podcast, the story of Claude Pepper and George Smathers was told. Claude Pepper was running for office in 1950 and appeared to be ahead when Smathers was reported to have made his famous "redneck" speech in which Claude Pepper was praised but in words that sounded naughty to untrained ears. It was later reported that the speech was never made and was the invention of a reporter covering the campaign.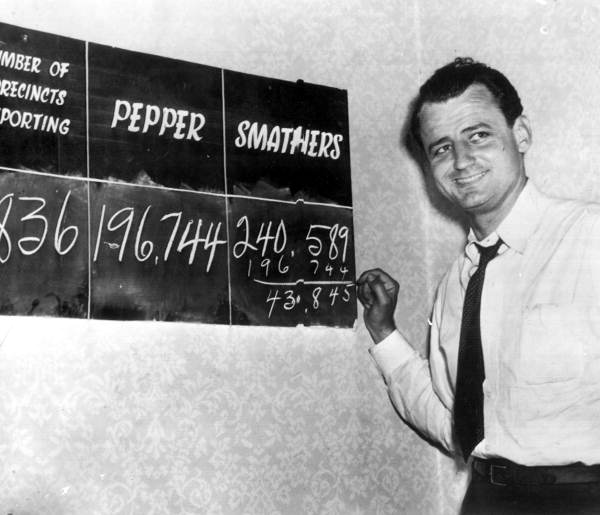 That was back in 1950, but things in Florida haven't changed that much. Today, in my mailbox, was a 8 1/2 x 11 inch manila envelope with the word "URGENT" in red letters across the top. Inside was a letter from the Honorable John Thrasher, a lobbyist and former politician who was a big part of the privatization blitz a few years ago. The letter is right up there in the Florida Politics Dirty Tricks Hall of Fame along with the Smathers speech from 1950.
In the letter, Mr. Thrasher noted that my name appeared on a petition for the Florida Hometown Democracy constitutional amendment. He urged me to sign and return a form to his office so that my name could be taken off the petition.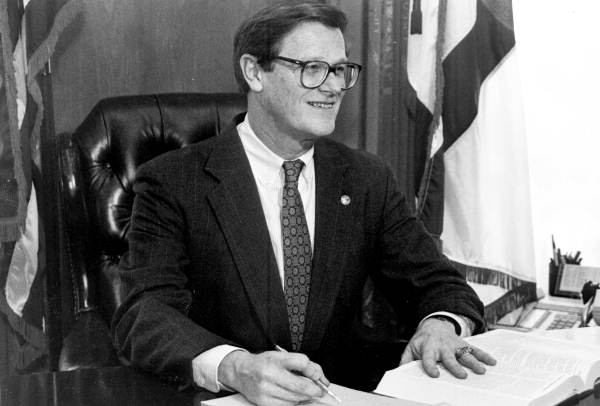 I've written about this amendment in the past. It call for major changes in county comprehensive development plans to be approved by the voters. My friends in the development community hate this because it slows down their work and means that instead of just having to buddy up with the county planning departments, they have to actually convince the citizens on big projects.
It's a mixed blessing, and will increase the hubbub around election time each year. It will slow down some of the big projects and might get in the way of public works projects. However, it's putting power in the hands of the people and I'm usually in favor of that.
So I was pretty interested in that letter and what Mr. Thrasher had to say. Mr. Thrasher claimed that the petition was deceptive and the work of special interests. He said that it would result in property tax increases, would allow developers to destroy Florida's natural beauty, and would increae utility bills. To top it off, he said that the "electors" referred to in the petition were special interests.
Yes folks, it's just like the Smathers smear in 1950 and in-fact will have no effect on property taxes. If you want to see property taxes go up, let a developer build a high end subdivision next door to your property, and watch the taxpayers have to cough up the bucks for those new roads, sewers, water mains, fire and police stations. Folks, developers are already destroying Florida. This amendment gives the citizens of the county, those "special interest electors" that Mr. Thrasher speaks about, the power to decide how their neighborhood will develop.
If I was even a little bit on the fence about this amendment in the past, this letter, with it's nastiness of trickery and misdirection is more than enough to convince me of the value of getting the Hometown Democracy Amendment on the ballot.
There may be good reasons to not support this amendment, but let's get it on the ballot so that we can have an open and reasoned debate, and not sell our souls to the fear that which this letter is trying to generate.
You can find a copy of the Florida Hometown Democracy petition by visiting their web site and clicking on the "Click to Download Petition" link or by clicking here. Be sure to not confuse the real petition with another "fake" petition being circulated by the opposition.
Music on this podcast is the appropriately titled "Lies" by Bradenton, Florida rock goddess Patti B. and comes to us from our friends at Garageband.com.
2 Comments
Leave a Response